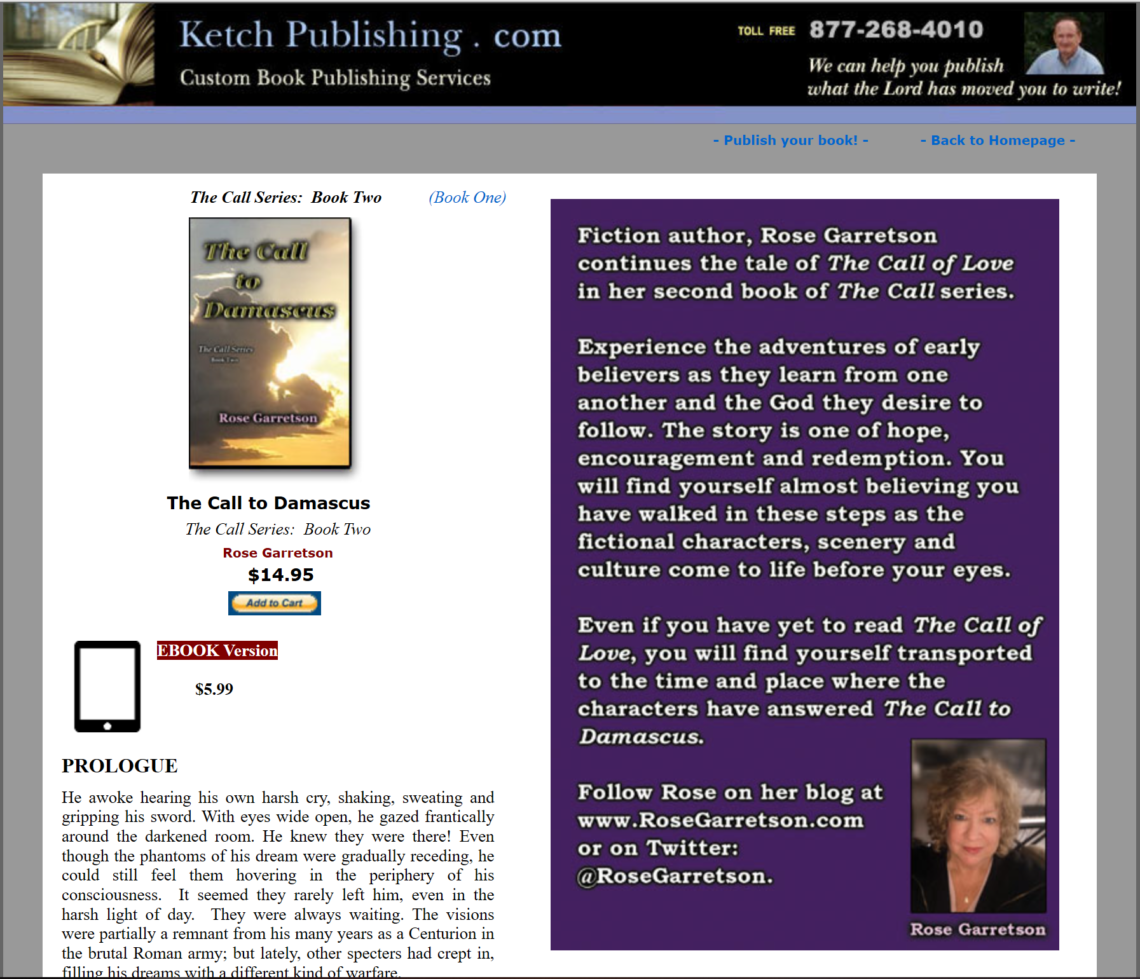 Why do I do this, you may ask? It's simple…I love to write. There are stories in my heart and head that my Irish soul needs to tell. I heard a few months ago from an author I greatly admire that there are "cultural issues" in my writing. I have deliberately left these in, making the scenarios more contemporary in nature. I realize this is a dichotomy, especially when one is writing historical fiction. However, it's the love of placing encouragement into our world.
Hope you enjoy the people and places in these books. More to come soon!
The first book is "The Call of Love". It begins the 5-book series with Miryam, a combination of Mary Magdalene and the Mary who anoints Jesus.
The second book continues the journey in "The Call to Damascus". Crispus, the Roman Centurion who guarded the cross of Jesus plays a pivotal role. He is also a combination character – the guard and the Roman who asked Jesus to heal his servant.
Book Three in "The Call" series is "The Call to the Light". Cultures collide and mingle, creating a new dimension in the early days of Christianity. In this third fictional episode in "The Call" series, the bonds of unlikely friends continue to flourish and strengthen. The power of God's love rattles and breaks down prejudice and barriers erected for generations. Through a series of events, encounter Priscilla and Aquilla, as well as characters from the first two books. From Rome to Jerusalem and on to Damascus, learn how a small group of people change their world by sharing the Hope they have received.
Book Four in "The Call" Series. Rome is the center of civilization. The architecture, engineering, shipping, arts and currency were controlled by a hedonistic, unprincipled, deranged Emperor. In "The Call From Rome," Crispus encounters a human enemy determined to ruin him. His reliance on his faith and his God remains stalwart, a shining light in a particularly dark period, as he answers "The Call From Rome."
Throughout history men and women have been given powerful and sometimes life-changing dreams. There are many references in the Bible about such happenings. "The Call of Dreams" unfolds across Judea, Damascus, Egypt, Edessa, and Rome itself. Walk with characters as they encounter challenges and miracles, while pursuing their dreams. The story is a tale of encouragement that every person is important in the fabric of life, whether child or adult, Apostle or Seeker. Join Crispus and the others as they continue their journey of faith, hope and love.
The entire series consists of 6 books. Coming soon, "The Call to Stand".
I also need to thank my Ketch Publishing. Allen is a wonderful person and has helped me bring my dream to market. If you are a Christian author,, you should contact him.!
– RG