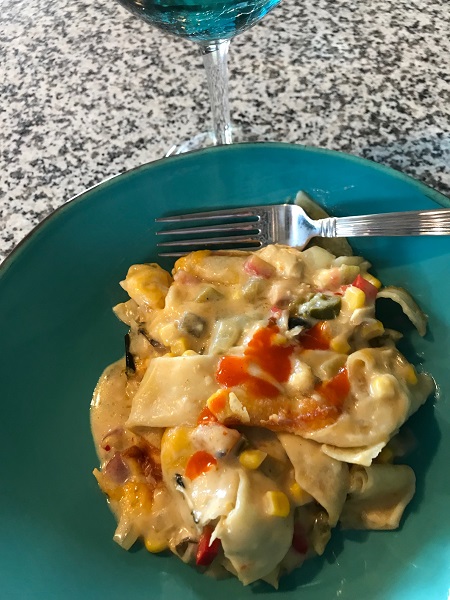 King Ranch Casserole with a Twist
Ingredients
1/2 cooked, shredded chicken (3 or so cups)
3 roasted poblano peppers, split
1 large onion, chopped
1 large red bell pepper, chopped
2 tablespoons vegetable oil
1 can roasted green chiles
1 can chopped jalapenos (or 2 chopped fresh, seeds removed)
1 (10 3/4-ounce) can cream of chicken soup, undiluted
1 (10 3/4-ounce) can cream of mushroom soup, undiluted
1 (10-ounce) can diced tomato and green chiles
2 tablespoons minced garlic
2 – 3 shakes chalupa sauce
2 teaspoons cumin
1/4 teaspoon salt
1/4 teaspoon pepper 12 (6-inch) corn tortillas (flour tortillas used in the photo)
3 cups (8 ounces) shredded Cheddar cheese, divided – I used cheddar & jack
Preparation
Step 1
Roast the poblanos over a gas fire, or in the oven. (400 15 mins, turning until the skin blisters. Peel off outer skin)
While the poblanos are roasting, sauté onion and bell pepper in hot oil in a large skillet over medium-high heat 5 minutes or until tender. Stir in chicken and next ingredients; except tortillas and cheese. Heat through, then remove from heat.
Step 2
Cut tortillas into 1-inch pieces; layer one-third of tortilla pieces in bottom of a lightly greased 13- x 9-inch baking dish. Top with one-third of chicken mixture and lay a poblano over the chicken mixture. Add 1 cup cheese. Repeat layers twice.
Step 3
Bake at 350° for 30 to 35 minutes.
Enjoy!